The survival rate of local businesses during the height of the pandemic hasn't been great and even now as the economy recovers, MSMEs or the micro, small, and medium enterprises remain vulnerable. One Davao-based advertising agency counts itself lucky to have survived the downturn, thanks to a business partner ready to face the pandemic.
Visuals in Motion Advertising Inc., a 13-year old independent business, endured a shutdown and scaling back of operations in 2020, like many in the MSME sector. This was a setback to the company, especially one that is already serving large corporate clients in the region.
"The pandemic created a lot of disruptions in our operations due to the lockdown of business establishments. So we had to continue our business online. We had to meet up with our clients through Zoom meetings and send our artwork through email. This posted a lot of problems and concerns especially when we had to upload and download files," explained Helen Perpetua J. Onggo, Operations Manager of Visuals in Motion.
Facing fewer clients than before and most of the agency's work done online, Visuals in Motion had to be efficient in both its resources and way of working. As an advertising agency, the company had to keep in touch with clients constantly and upload and download large multimedia files quickly.
"When we shifted to online transactions, we had to make sure our internet connectivity was very stable. If there's a problem with internet connectivity, then it means we have to do the process all over again so it takes a lot of man hours, in terms of loss. And we need to be efficient," said Ms. Onggo.
On that, Visuals in Motion has found the 'pandemic-ready' business partner whose fiber broadband connection kept the business going – Converge ICT Solutions.
"We did not experience any interruption and it was consistent. More significantly,  we are able to upload the files as easily as we download the artwork so there's a symmetry in uploading and downloading, and for us that's very consistent," said Helen.
"With Converge, we have a better choice. If we wanted to continue with our presence in the market, we had to shift to Converge. We are very fortunate because once we did have the connection, we immediately shifted all our operations to the use of Converge," she added.
Pure fiber network in Mindanao
Converge ICT Solutions, Inc. made its official entry into Mindanao last April, with its subsea cables landing in Cagayan de Oro. Since April, it has been gradually strengthening and expanding the fiber backbone throughout the region.
Starting operations in Mindanao in June 2021, Converge has targeted Davao and Cagayan De Oro as its first markets in southern Philippines to serve both residential, enterprise and MSME customers such as Visuals in Motion.
With a business partner ready to take on the connectivity demands of businesses in the New Normal, Visuals in Motion is sure that it is on the way to recovery.
"Now that all businesses are recovering, we certainly need a business partner to help us carry on and move forward. And Converge gives you a very stable internet connectivity, that's a strong foundation to build our recovery on," said Ms. Onggo.
National Digital Highway and Mindanao Redundancy Loop Completed
With Converge completing its national digital highway in November 2021 – with eight landing stations in Mindanao so far and presence in Davao and Cagayan de Oro – it is set to further expand its footprint in the region. In 2022, Converge is setting its sights in expanding its provincial backbone deeper into Visayas and Mindanao.
Last year, Converge completed the 'Mindanao redundancy loop' that runs through the region, further strengthening the 90,000-kilometer pure fiber backbone of Converge in the country. This critical infrastructure in its domestic fiber backbone in Mindanao, improves the fiber internet service availability for subscribers in southern Philippines.
 "As we continue to pursue our Go National strategy through 2022, we want to make sure that we have high service availability for our subscribers in Visayas and Mindanao. With the redundancy ring completed, we're significantly reducing the chances of service outages since we now have an alternative network route in place. The whole Philippine digital highway is now strongly protected against cable breaks," said Converge CEO Dennis Anthony Uy.
"With this, we're adding yet another layer of protection to our network which is important as we accommodate the growing demand in Visayas and Mindanao," Uy added.
The redundancy loop is a network structure that fortifies the primary route of the network by adding a secondary path for data to pass through in case of a failure in the main route. This makes sure there's no service downtime and subscribers' connection remains unhampered.
###
PHOTOS:
Ms. Helen Onggo's 13-year old ad agency scaled back on operations but survived the digital shift during the pandemic thanks to Converge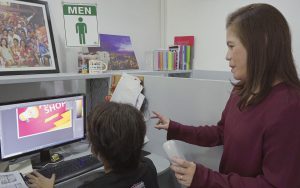 Helen Perpetua J. Onggo manages Visuals in Motion Advertising Inc. with her husband who is the owner of the advertising agency. Helen and her husband are the first SME customers in Davao of Converge.
Helen Onggo counts major conglomerates as her clients, and services firms both in Luzon and in Mindanao.
From left: Converge Head of Sales for Consumer, SME and Emerging Channels Mr. Ariel Concejero, Metroworks President and COO Mr. Miles Tonn Chua, Regional Manager of Visayas and Mindanao Mr. Mike Maquiran, and Converge CEO Dennis Anthony Uy flank Davao's first SME customer, Ms. Helen Perpetua Onggo who runs an advertising agency together with her husband.
The marketing and sales force of Converge in Davao pose with Conrad.
Converge CEO and Co-Founder Dennis Anthony Uy announces the campaign to paint Mindanao purple at the Davao Meet and Greet.