DAVAO, PHILIPPINES—Buoyed by its growth in the past years and the gradual easing of restrictions on economic activity, Damosa Land Inc. remains committed to driving local development through a portfolio of valuable innovations in Davao real estate. The premier real estate and agro-industrial developer in Davao is optimistic in the recovery of the industry having seen a rebound in its business across the residential, commercial, and industrial segments throughout 2021.
"Now more than ever, the Davao region shows promise as a prime investment spot as it continues to grow higher than the country's GDP even with pandemic-related adversities. It is Damosa Land's goal to support this growth by focusing on the progress of our real estate projects and ensuring that our developments are ready for new locators who will further expand the opportunities for our community," Cary Lagdameo, president of DLI, said.
Damosa Land has completed Seawind, the company's first condominium development.
Accelerated completion of residential portfolio
Damosa Land's residential business progressed with the construction of Ameria, the residential component of its agropolis township project Agriya, and the completion of Seawind, its six-tower mid-rise condominium that overlooks the Davao Gulf and Samal Island.
Having just completed the condominium project in October this year, Seawind has already turned over more than 52% of its 1162 total units. Similarly, consolidated sales for both Seawind and Ameria have picked up this year with more than a 50% increase from 2020.
The Damosa Diamond Tower was completed in July 2021 and is set to house several locators.
Commercial business reach close to full occupancy
Damosa Land also continues to expand its office portfolio with the addition of flexible workspaces through its franchise partnership with International Workplace Group (IWG). Under the franchise partnership agreement, Damosa Land is set to develop and operate eight IWG centers across Mindanao in Davao, Cagayan De Oro, and General Santos over the next five years. Early this year, Damosa Land and IWG already launched Regus Felcris Centrale in Davao City and HQ Topaz, the rebranding of the companies' first project in Regus Damosa Topaz Tower in 2016. Regus Diamond Tower will be the third IWG center, and will be hosted by the Damosa Diamond Tower which was completed in July this year.
Soon after its completion, the Damosa Diamond Tower became the first office building in Mindanao to get an Excellence in Design For Greater Efficiencies (EDGE) certificate. The office tower registered 22% energy savings, 27% water savings, and 24% less embodied energy in materials. Anticipated to become a premiere business address in the city, the Damosa Diamond Tower will house several locators including the expansive co-working spaces of Regus, professional services firm Sycip Gorres Velayo & Co. (SGV & Co.), Business Process Outsourcing (BPO) and Knowledge Process Outsourcing (KPO) companies, and the corporate offices of Anflo Management and Investment Corporation (ANFLOCOR) and Damosa Land.
Not yet including Damosa Diamond Tower, Damosa Land's retail and traditional office segment is currently at a 94% occupancy versus around 88% in 2020. Damosa Land expects to maintain the recovery trend in this segment as more businesses open up next year.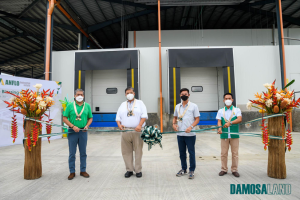 AIE in Panabo City has set in new cold storage facilities that are ready for occupancy.
Industrial park boasts in-demand cold storage facilities
Taking advantage of Davao's location as a prime spot for trade and agriculture, Damosa Land boosted development of the Anflo Industrial Estate (AIE) with the addition of state-of-the-art cold storage facilities. The freezer rooms are expected to be able to accommodate more locators' temperature-controlled requirements for products such as fish and seafood, meat, poultry, frozen food, and fresh produce.
AIE reports having 19 locators to date.
Cary Lagdameo served as Chairman for the sixth staging of the Davao Investment Conference, the first done in a hybrid format.
Propelling Davao economy through real estate innovation
Real estate joins agri-business, tourism, and manufacturing as a key sector driving diversified investment in the Davao region. This was highlighted in the 2021 Davao Investment Conference, chaired by Cary Lagdameo, where over 700 individual investors and organizations participated.
In his remarks at the conference, Lagdameo emphasizes the abundance of opportunity in Davao as a growing market whose economic engines will drive demand for new offices, homes, and leisure spaces, especially as economic activity starts to accelerate in the coming years. Anticipating this growth and as a testament to the resilience of the region, Damosa Land prepares to achieve more project milestones including the launch of its Samal Island project in 2022.